Testimonials
When choosing a Real Estate professional, get to know their history!
Below, you'll find information that will help you get to know Alma Hadzic better - from awards and credentials I've achieved, to references from past clients.
I consider the satisfaction of my clients to be my greatest achievement, and take pride in my high volume of repeat business and referrals.
Call me today - I'd love to add you to this growing list!
Alma sold my house really fast
Alma helped me sell my house and through it all she was amazing! She always kept me in the loop of what was going on and who was see the house. She was constantly giving me updates. Alma sold my house really fast and worked really hard to do so! I would recommend her to anyone who is looking to sell or buy, she is a wealth of knowledge.
- Nas Jomha
Proud to have Alma represent my company
Alma was so professional. I am proud to have her represent my company in the sale of our rental properties. She is an experienced realtor and I highly recommend her for any real estate needs whether it is commercial or residential!
- Harpreet Singh
Looking forward to working with Alma Hadzic again
Alma was an amazing agent to work with. It was my first time purchasing and even though I was unsure of what I wanted, kept changing my mind and had an offer fall through, Alma was always there for me to work through bumps in the road. I finally settled on a place and her help in the negotiations was a huge plus at the end of the day, as Alma saved me more than I was expecting. I really have zero complaints and look forward to working with her when it's time to upgrade!
Thanks again Alma!
- Tom Nguyen
Alma will be the first person I call!
Alma was absolutely amazing in every way and always went above and beyond with both my home sale and purchase... right down to actually helping me move! What other agent helps you with moving in boxes on moving day! More than that, Alma was professional, honest and knowledgeable. She would be the first person I call should I move again and I would feel good about recommending her to any family member or friend.
- Angela DeVarennes
Working with Alma I felt like I have known her for years! She made me feel comfortable
I first worked with Alma Hadzic 5 years ago when I was looking at my first investment. I wasn't sure exactly what I was looking for and wanted to browse the market to get some ideas. When I started working with Alma I felt like I have known her for years in the way she handled business she made me feel and believe it was a team effort. Alma was very helpful I had a extremely busy schedule yet without any hesitation she coordinated her schedule to meet mine, she was always prepared and on time. We looked at many different listings even ones I thought I wouldn't be interested in she helped me branch out and educated me on important details I looked past. Part of buying property is of course the negotiation between the seller and buyer, Alma really helped me in this process by providing me feedback and ensured it was reasonable amounts on both ends. I recommend her to anyone that is looking at buying or selling property she is professional and passionate about her clients. 5 years later and I am currently working with her on finding another property!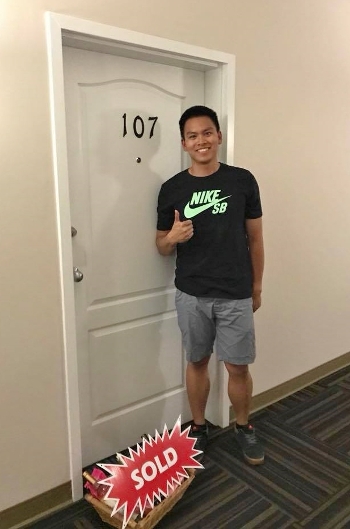 I can't thank Alma Hadzic enough for helping us
I can't thank Alma Hadzic enough for helping us find our first home(almost a year now). She was very knowledgeable and most importantly, very patient with us. It took us almost 2 years to find this perfect home due to some personal reasons but she stuck right through. Would 100% recommend to anyone, to my friends and family, and will do business again with her in the future.
- Marc Hardy Medrano
Great negotiating skills
The Asfour family would like to take this opportunity to thank Alma Hadzic for her help and patience. When our daughter turned 6 months we decided to sell our one bedroom apartment and buy a house. Our first step was to look for a realtor. We had talked to some friends and they recommended Alma Hadzic. Once we gave Alma a call she immediately set up an appointment. We sat down with Alma and she went through every step and explained to us how the real estate market works and all the paper work and procedures involved. We knew that the market was slow and it was not the best time to list our one bedroom apartment at the price point we had in mind but Alma was optimistic and eager to sell our property so we could finally find our daugher a bigger home. Well to our suprise less than 2 weeks later Alma had a buyer for our place. We sold for only 5 thousand less than the asking price! We then had a budget set for our new home. We seen about 30 different properties before we found a home we fell in love with which we bought for a lot less than we expected. GREAT JOB ON PRICE NEGOTIATION ALMA! Well what we really want to say is that Alma displayed patience and sympathy towards our family. She never refused or was too busy to show us a property. We definitely recommend Alma Hadzic for you Real Estate needs. You Go Alma Hadzic!

Exceeded any of my expectations, even though it wasn't my first home purchase!
Working with Alma Hadzic exceeded any of my expectations, even though it wasn't my first home purchase, I have been out of the game for a while and I was brought up to speed with the terminology and procedures. Alma is a worker and supplied me with a wealth of information on homes in my market area before I made my decision. When the time comes for me to move up in housing, I am acquiring Alma's expertise again.
- D. Eagle
Alma is an absolute pleasure to work with!
It was an absolute pleasure to work with Alma, I'm a first time home owner. After years of of savings and sacrifices I wanted to get something big for my first house, and I felt like a child in a candy shop but a little bit under budget and very confused. After sitting down and talking with Alma and telling her about what I wanted and hoped for with my budget, I can honestly say that I was not disappointed. Thank you for all your hard work for helping me find my dream home. I would highly reccomend her. She is very knowledgeable and reasonable. Above all she is very kind and caring. Thanks again Alma, God bless.
- Omaid Dashty
Reliable, organized and sincere
I have had the priviledge of buying my dream home this year, not only was it my dream home but it was a great experience along the way. Alma is not only a reliable, organized and a hard worker she is also a very sincere and kind person. She never caused me any pressure or stress and kept the process fun and friendly. In the future Alma will be our number one choice for purchasing or selling realestate. Thanks for everything Alma!!!
- Craig and Chelsey Olson
Patient, Professional and Efficient
When I was on the hunt for a realtor I came across Alma Hadzic on an ad and I really thought how could such a young and attractive lady be a realtor, thinking what could she possibly know about selling homes. Well Alma proved me completely wrong and she did her job like a pro! Alma hunted high and low for the price range and the style of house we were looking for and after looking at a lot of houses, low and behold we found our perfect home. I said to Alma after looking at quite a few houses that she must be getting tired of me looking at so many homes and not making any offers on any of them. Her comment back to me was that this is my job and we will find you the house you want, and low and behold we did find the exact home that we live in right now. Alma became a hit with all of my family and when all was said and done, we felt like she was a family member. She is a pro at her job and is also very caring, honest and she will really help you find your dream home. Thanks very much Alma
- Melvin & Wendy Fink
First time home buyer EXPERT
I was a first time home buyer. Being a 22 year old male I had some very distinct specifications that I wanted for this first home. When I was looking for a realtor I was not sure what to expect and had asked my friend for advice who had just recently bought a home. His response was "I have a realtor for you."
I contacted Alma and right away she was very interested in all my needs and wants for my first home. Within 24 hours Alma had set up appointments with multiple homes for me to look at. When I met Alma I knew that I had made the right choice as every home that we entered she would answer all my questions honestly in a professional manner but she was also very caring and understanding as I had a million questions.
The home buying experience took a couple of months but I was never too stressed because I knew that Alma was always actively looking out for myself and if I ever had any questions I could call or email her without feeling uncomfortable and get a quick response. Alma would know as soon as we walked into a home whether I would like it or not.
Once we walked into the home I ended up buying, we both agreed that this was the perfect home for me. Once the paper work process started I again had a million questions, but I never felt pressured by Alma. She was there for me through the whole process.
I want to thank Alma for everything she did! A few of my friends are currently starting to look for homes and I will advise them to contact Alma. I will always refer Alma and I can't wait to use her again in the future!
- B. Myhre
Excellent Realtor, highly recommend Alma!
Very good, highly recommend her! Would show you flaws in houses so it showed me that she didn't just want to sell you a house, she wanted me make sure you got the perfect house for you.
- Amanda Ludwig
Helpful and Patient! Never felt any pressure to buy
Best Real Estate agent ever. Don't think twice about using anyone else. Very helpful and patient. I never felt any pressure when buying a new house. Melissa and I will definitely be calling you when we are looking for our next home. Thanks again Alma
- Harvey & Melissa Olson
Alma was very accommodating to my schedule & she never pushed me into anything
Alma is a professional, who is very honest and and easy to deal with. She was very accommodating to my schedule when I was home hunting and she never pushed me into anything. When I finally found the place she went over and above to get me the best deal.
- Ayed Kamis
Knowledgeable about the current market
Alma went above & beyond for my family & I when we were searching for a home. She was very patient day in & out when showing us homes & was very knowledgeable about the market & properties that were presented to us. She found exactly what we were looking for within the budget we had & made the process as easy & smooth as could be. Would highly recommend!
- A. Yehya
Alma is the full package along with her channel of connections
Alma is the full package along with her channel of connections which makes her a one stop shop. Within days brought me numerous of properties to look over and took me specifically to the locations without any hesitations. She is well informed of her listings and shares her knowledge of any flaws or damages within the building which as a home buyer should be well aware.
- Javier Astorga
Pleasure to work with Alma
Always a pleasure working with Alma. She is up to date with current market conditions and understands all clients needs. She has a great deal of knowledge on all facets of real estate thus making each transaction efficient. I would highly recommend Alma for any of your Real Estate needs.
- Romeo Deol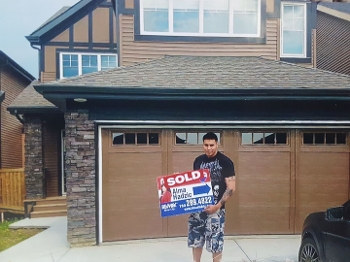 Patient & experienced with first time home buyers
Alma was a God send when I started looking for my new home she was very attentive in finding out what I was looking for and the house she picked out for our viewings were spot on so much that I chose the second house we looked at she was very patient with everything I was looking for and was with me step by step everything went smooth and even after the deal was done she continues to check on me to see how everything is going I'm happy to call her a friend and I would recommend her to anyone looking to buy or sell I know I wont use anyone else
- Shayne Davis
Fantastic service
Thank you so much Alma. I knew that you were the right choice!!!!!!!! I appreciate the work and time you put into the sale of the house. You were very professional, but your heart surely went into the relationship that existed during the listing. I will recommend you to anyone looking to buy or sell a home. Again, thank you very much and hopefully we'll cross paths again in the future!!!!!!

BEST OF LUCK ALMA!!!!!!!!
- Rod Shinkaruk
Alma helped make the buying process simple!
Alma helped us buy our first home in the West End and we loved working with her! She was knowledgable, helpful and friendly, and really made the process less confusing for us. I would highly recommend her to anyone looking for property in Edmonton.
- Munira Muradi
Alma is efficient and extremely experienced!
Alma was very efficient in setting up the listings for the property as we had it listed as residential. She also had to deal with a tenant living at the house during showings and handled that situation very well. We got our asking price and a fast closing with no issues on the sale. We're very happy with our overall experience!
- Hiwa Palani
Alma is reliant, friendly and easy to work with!
I would definitely recommend Alma. She is always on time, always willing to answer questions and willing to meet for a showing when works best for you. She is reliant, friendly and easy to work with. She does her research before showing you a place so you know if it will work or not before hand.
- Andrea Saltel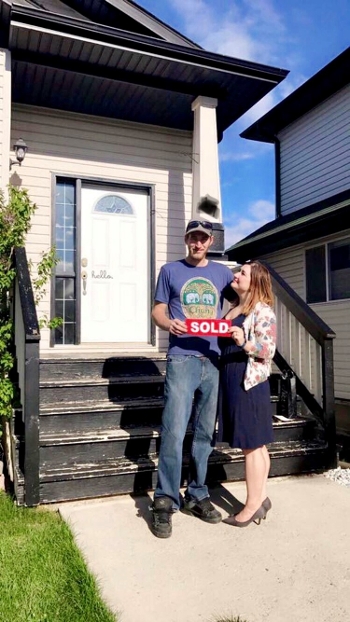 Knowledgeable, Relatable and Kind
Finding our perfect house was easy peasy with alma. She's relatable and kind so makes you feel at ease and not stupid asking stupid questions especially when you are buying your first house, but she's also so knowledgeable and will point out all the things good and bad to make sure you are making an informed decision on your big purchase. I wouldn't hesitate to recommend her to anyone buying their home!
- Rich & Katie Hurley
Alma listened to my perfect home requirements & showed me many great options!
Alma was amazing when I bought my home. As a first time buyer, I really appreciated her knowledge and willingness to walk me through the process. She listened to my requirements and showed me many options that fit my needs. She was responsive to communication and was patient with my questions. This continued through the closing process. I would absolutely recommend her, and plan to use her services for any further real estate dealings.
- James Nillock
Fantastic Realtor! Alma ensures you find the right property
Alma is a fantastic realtor. She ensures you find the right property that suits your needs. I'm particularly impressed with her attention to detail. She is professional and a delight to work with. I will definitely use her when I sell and buy my next home!
- Brett Ludwig
I would recommend Alma in a heartbeat
I really liked working with Alma. She has helped me sell a few properties and had excellent outcomes. I would recommend her in a heartbeat. I will reuse Alma again in the future.
- Colleen Bethune
Alma demonstrated professionalism and patience!
Alma helped me with my first home purchase. She demonstrated professionalism, patience and hardworking during the whole process. It was a happy and satisfactory experience working with Alma. I look forward to working with Alma again in my future home purchase. Thank you Alma!
- Sabrina Sun
Alma turned out to be my biggest support system
Alma helped me with the purchase of my first home. She was actually a friend of a friend that in all honesty I didn't really know that well. She was recommended to me by that mutual friend and I thought that it would turn out to be just that, BUT she turned out to be my biggest support system on my hunt and has since then become an actual friend. Her professionalism and desire to help people as best as possible was obvious from day one. I actually have plans to sell my current home as I am much older now and have had my family grow. I have every intention of using her to help me in the next chapter of me life. If available of course lol!!
- Ashley Jensen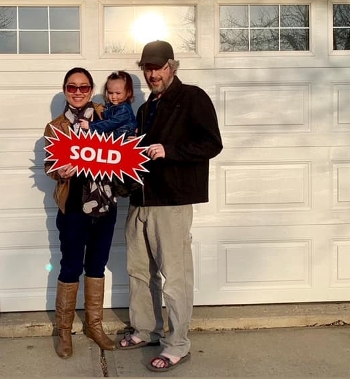 I would recommend Alma to my own mother without hesitation
Very helpful and patient. made the process easy. I would recommend Alma to my own mother without hesitation. i need at least 8 more words for this review to meet the requirements to post it. so just ignore these extra words as the first paragraph sums up my experience as clearly and concisely as possible
- Meech Family
Alma is very accountable, always on time, & very presentable!
Alma was very accountable, always on time, very presentable, courteous a nd guided me through the process very professionally. I would recommend her to anybody who is thinking of buying or selling real estate in Edmonton.
- David Carpenter
Alma is very knowledgeable and provided me with the right advice!
Alma was a great help for me during my search to purchase a condo in Edmonton. She is very knowledgeable and provided me with the right advice.
- Ali Rabia
The best REALTOR for first time home buyers!
Alma is friendly and knowledgeable, provides the customer with valuable information to help me make my decision, she provided all the information about the place I was interested in and surrounding area, what kind of features are associated with your new home, tells you what the future market might be for your new home, gives you the best options available for you base on pricing and location, shows you more options. Alma is always available to answer all the questions, calls, and arrange her time greatly.
- Kola Naemalla
Alma was able to help us find a house quickly that suits us perfectly!
Our experience with Alma was fantastic. She was professional, caring, knowledgable and friendly. Alma was able to help us find a house quickly that suits us perfectly. We confidently recommend using Alma if you are looking to buy or sell a property.
- Kelly Cameron